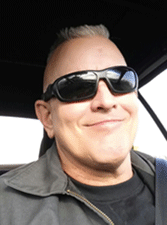 Tom McChesney
Owner, Technical Lead, and Sales Contact
Tom personally oversees design and manufacture of all ChromaLectrix tools and systems, as well as sales and delivery of equipment to collision centers and pro body shops in the region, nationwide and now internationally. He has decades of experience in the repair industry, from the spray booth to sales and training for top national coatings companies.
"If I've learned one thing from working with customers, quality vs. turnaround time is a constant balancing act," according to Tom. "All paint teams need a reliable system to quality-control color matches, and they need to minimize drying times without compromising finished results. If we can solve workflow headaches like these, better and for less money than the majors, the collision shop owner's bottom line looks healthier already."
It takes a pro painter
Tom McChesney built his career in the collision repair industry over decades of experience in sales and training for top automotive paint systems. As an expert technician himself, he "gets" the challenges faced by pro painters every day. "Klunky, old-school tech can really slow you down in the paint booth. I decided to do something about it, which led to our first true-white portable color viewing tool, the TommyGunn(TM). It proved we could put a superior tool into the hands of a skilled painter for less money than the nationals were charging for yesterday's technology."
"'Killer quality, unanimous approval from our testers in the field, for an affordable price point,' was the core concept that launched our top selling TommyGunn, GatlingGunn, and Howitzer LED conversion kits," says Tom. "Innovative, well priced, and offering pinpoint accuracy even with today's sophisticated automotive coatings, our portable color matching systems sell as fast as we can manufacture them. Our new product line, Tommy Gunn UV portable rapid-curing systems, follows the same formula – balancing technical excellence, flexibility, and affordability."
Get tomorrow's Pro LED tools today.
Contact ChromaLectrix for details or to schedule an onsite demo of TommyGunn and TommyGunnUV LED light tools today.
ChromaLectrix LLC is the creator, manufacturer, patent and trademark holder of TommyGunn™ professional quality portable pro grade color matching tools. TommyGunn™, GatlingGunn, TommyGunn™ Howitzer, are trademarks of ChromaLectrix LLC. TommyGunn™UV is our proprietary rapid paint curing system, and trademarked by ChromaLectrix LLC.